The World Athletics Championships in Budapest was a great success from a Hungarian point of view, since in addition to the excellent organisation, our athletes also performed above average. The members of the 4x100 relay team - Anna Luca Kocsis, Gréta Kerekes, Boglárka Takács and Jusztina Csóti, for example - clearly earned the recognition of the home crowd, with a huge ovation for the girls. We spoke to Gréta Kerekes, who is now in rest, a few months after the summer competition.
First of all, let me congratulate you on your upcoming birthday and, a little belatedly, on your absolutely amazing World Championship performance.
Thank you very much, the latter also on behalf of the others.
Knowing your results this year, as a layman I can say that even before the World Championships in Budapest I could feel that something lasting would be born, as your times have been improving steadily, for example your 400 hurdles time was mostly under 13 seconds. So it's no coincidence that the World Championships went fantastically well and that you said you had never felt so much love. Do you see any chance of getting this much love from the audience again?
To be honest, we would need a world competition again, because I always get the love, we always get the love, but not so much directly. or this, we definitely need a domestic environment.
You didn't feel it at the Gyulai István Memorial either?
Not so much, because it is held on a smaller field in Székesfehérvár, so there are far fewer spectators. Among the fans, there are probably more people who are relatives than fans who love athletics without any interest.
How much do you think the World Championships in Budapest contributed to the popularity of athletics?
I think a lot, and that's one of the reasons why I was happy to have the World Championships at home. By the way - maybe some people don't know this - I started playing athletics because of a world youth championship in Debrecen in 2001. I am sure that this year's World Championships have motivated a lot of young people to choose this sport.
After the World Championships, how were you received in your hometown, did people recognize you on the streets?
Obviously, more people in Debrecen know me, sometimes I see that they look at me as a familiar face, but they don't address me. But after the World Championships, there were times when I was in Budapest when a bystander called out to me, saying he had seen the relay and congratulated me. This was very strange to me. I'm not used to it, because we athletes are not such stars or celebrities that everyone knows us. Even if someone sees us as familiar, they might wonder where they know us from, which is understandable, because we look very different on the street in civilian clothes than we do on the racetrack.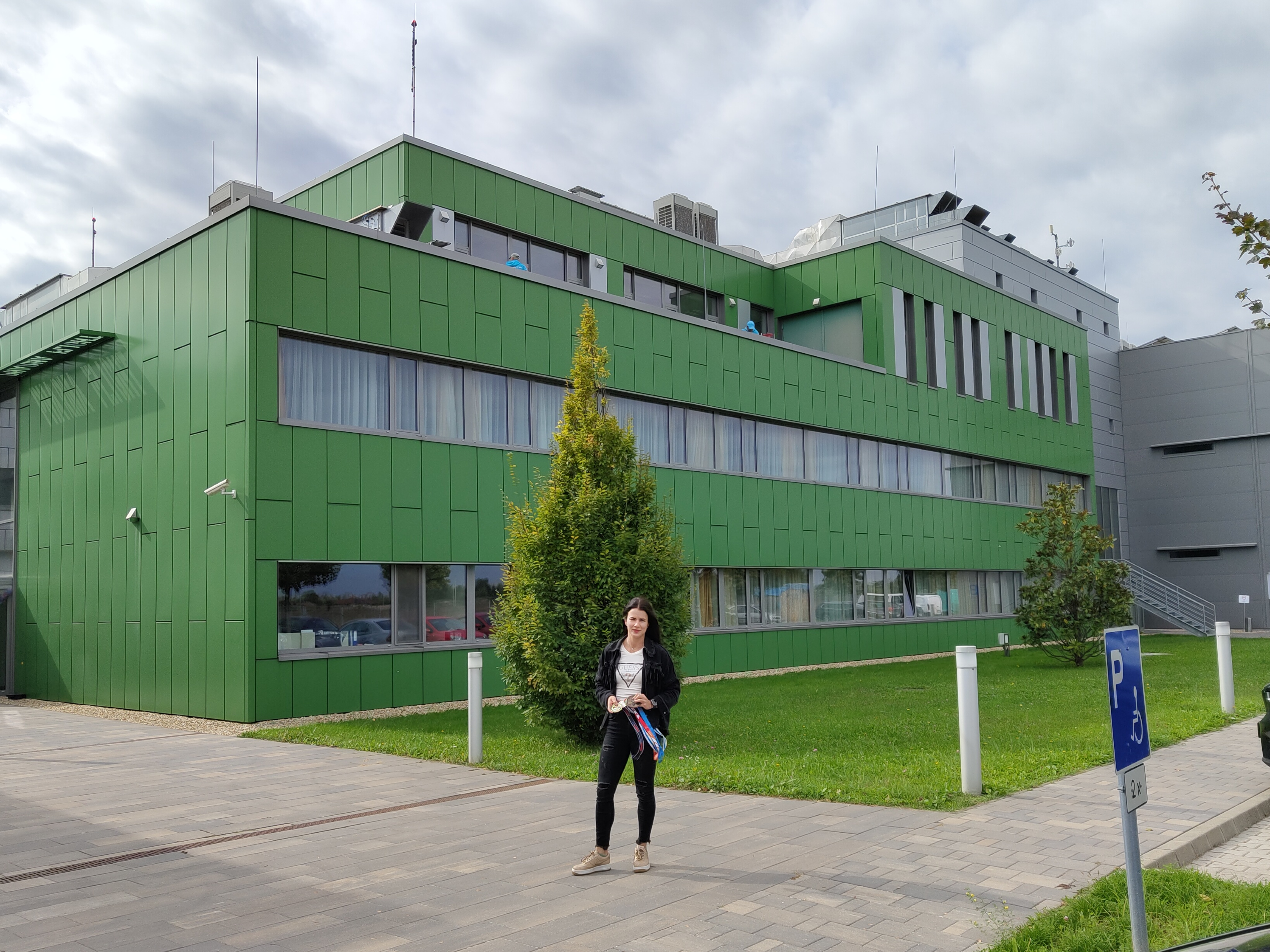 Gréta Kerekes in front of the PHARMAFLIGHT building
To what do you attribute the fact that you can still be so prepared at 30? Doesn't it hurt to get up in the morning?
Well, it's not easy, and it gets harder as we get older. Obviously this is part of life, and we should also be proud of the fact that we are getting older, because this is what it means to be alive. I attribute my preparation to the fact that my motivation never faded, my love for the sport never diminished, and I could always find the motivation within myself to do it. I was never forced to go on the field, no one forced me to train, I always wanted to do it, proving to myself.
I understand you perfectly, but you are not a heavy athlete who is still at the peak of his or her strength at 30, but a runner who is at the peak of his or her dynamic, where many people at that age are already thinking about retirement.
This is generally true, but if we look at the current age group, we see that the average age of running is also starting to extend. Just think of the World Championships final, where the average age was around 30. But you can talk about the former world record holder, Kendra Harrison, she was born in '92, like me, and she's still active. Tokyo Olympic champion Jasmine Camacho-Quinn is also 28 years old.
Why do you think this is the case? How has the sport or the competitor improved?
I think as the average age has been extended, so has this. In the past, we did hear that athletes stopped playing at 25 because they had to start a family. That's not the case anymore, not only for athletes, but also in everyday life. I could say that nowadays 30 is the new 20. I feel the same way in sport, and even more narrowly in hurdling. Obviously there are young people and there will be young people, including some who stop early, but now it is absolutely no surprise if someone is 30 and still on the track. For example, I feel much better at 30 than I did at 20.
This is when the naysayers remark that doping can work wonders in sport. By the way, are you taking vitamins and supplements?
Supplementing with vitamins and nutritional supplements is essential for such physical work. I know that many sports have been accused of doping, including ours, but I can say with my hands on my heart that my achievements have been obtained cleanly. It is very difficult in today's world to even talk about supplements, because many people have been brought down by taking them. Whether innocently or rightly I do not know, and I try to distance myself even from the information. One thing is for sure, the athletes concerned probably did not buy them personally in the corner drugstore, as any amateur athlete would, but they were given the supplements without having any idea of their contents. I do not want to offend anyone, but I think it is a cover story.
I think we should leave it at that, because this is a very far-reaching issue, and it is not our place to take a position on it. But you are taking part in a testing - not for the first time, I might add - at PHARMAFLIGHT Plc in Debrecen, which has nothing to do with chemicals, but rather with performance management. But what does that mean and how did you discover the potential?
My coach and I have always been open to different measurements, we used to have a tool, but we didn't have a specialist to evaluate the results. My father has an acquaintance at PHARMAFLIGHT and one day he asked me if we could try this. My parents always try to help where they can. We started working together in early spring, when we visited the PHARMAFLIGHT Aeromedical Centre, talked to the professionals, and were shown what it was all about. For me it was very impressive from the very first moment and I realised that this is what my coach and I had been looking for. We started working together. From then on, I took the measurements every day and we adapted the training accordingly.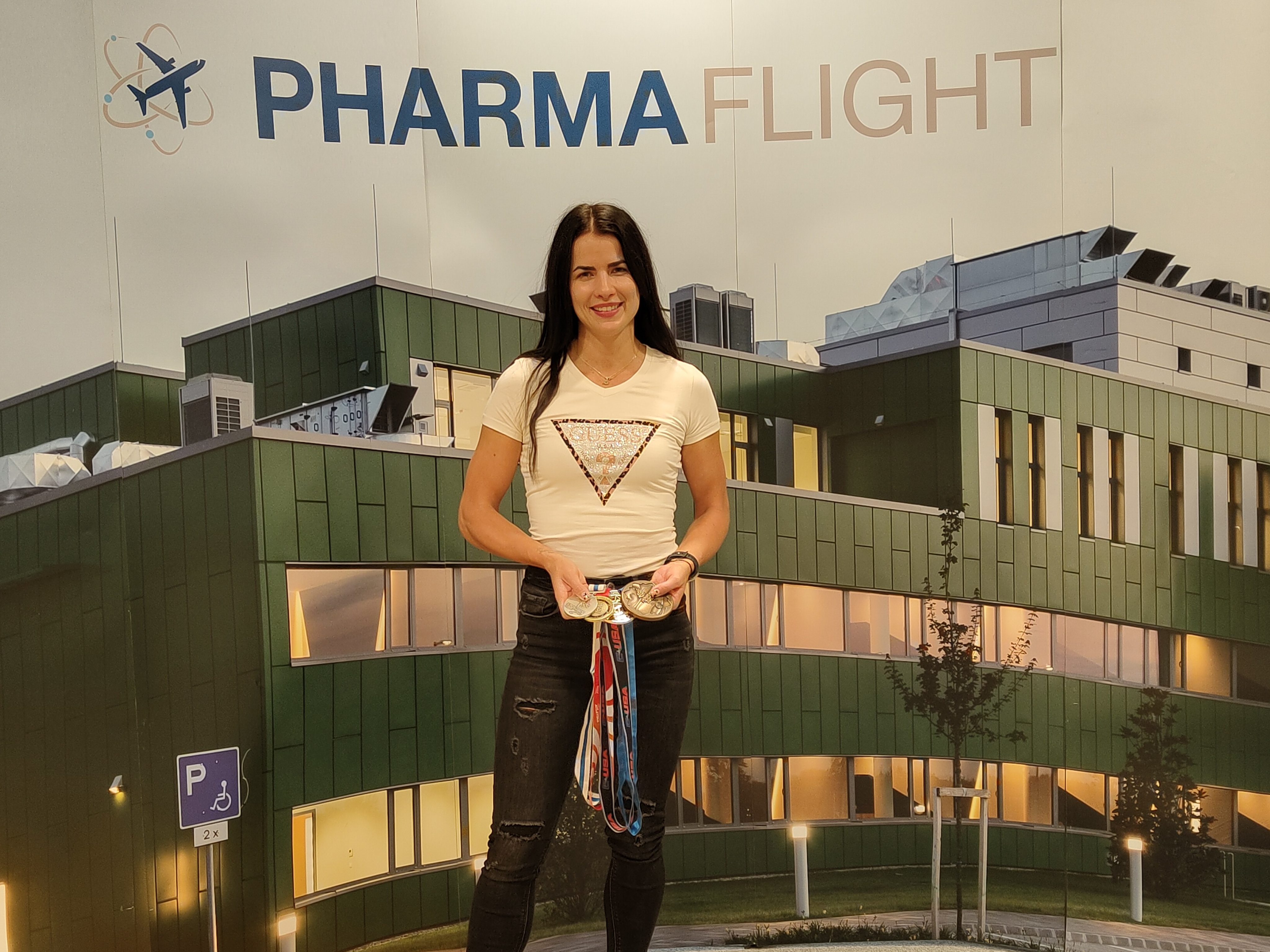 Greta's performance on the 2023 World Athletics Championships was impressive
You could argue that measurements don't directly improve your performance like, say, a good nutritional supplement …
It improves your performance in other ways. There was a day when I woke up and I felt like I slept great, I'm fine, let's do the workout. In the morning I did the prescribed measurement, and then Dr. Botond Szűcs, the biologist in charge of the program, wrote back that he was seeing signs of fatigue, that my brain function was a little duller, and that the signs were not indicative of good quality sleep. This feedback was immediately received by my coach and we made a change to do a gym session that day rather than a quality hurdle workout. So this test really helps me to always have quality training in my life, so that I can always train at 100%. We did it regularly throughout the year and it was a great help before the World Championships, because I had a 10-day illness. Even then, I felt fine after four or five days, so we wanted to do a serious hurdles workout. After evaluating my results that day, Botond also wrote that I was still not well, practically no improvement. So we have cut back the training completely. I think that's one of the reasons for the stability. It's a huge advantage to have an objective view of your condition. At this professional level, things are by a hair's breadth. My coach and I also talk about the fact that at this level I am not allowed to train at 80 per cent, but should always aim for 110 per cent.
I've often wondered what kind of team Novak Djokovic has behind him. What do you think?
I think it is very serious.The basis may be that they apply similar measurements. And then there's the dietician, the psychologist, the physicist and who knows who else.
Do you already have such a staff?
Let's just say it's similar, thank God, and that's one of the reasons for my results this year. PHARMAFLIGHT has a very important role to play in this, but the most important thing is that we are able to work very well with everyone.
As I have read in the newspapers, you are going to skip this year, quite rightly I might add, but 2024 is coming. What are your goals?
I would not say that next year will be any easier than this year. In fact, it will be much tougher, because there will be the World Athletics Indoor Championships at the beginning of March, and then if we want to qualify for the Olympics with a relay, there will be the World Relay Championships at the beginning of May, where we have to do very well. And then the European Athletics Championships at the beginning of June. After that we can talk about the Paris Olympics in August. So I have a tight schedule to say the least. That's why I decided not to compete this year, and even finished the season early. I will try to recharge my batteries and start the new year with renewed energy.
Gréta, we wish you good luck next year!